American Craft Week History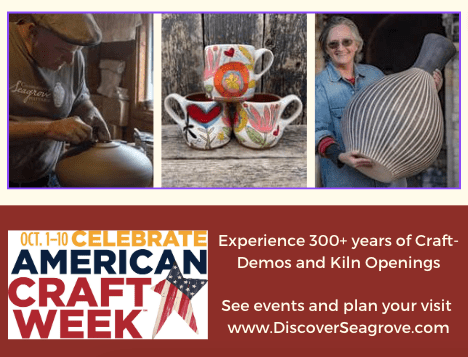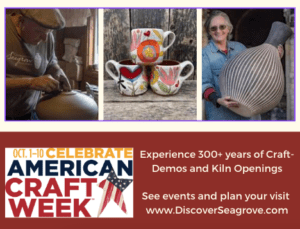 Seagrove is certainly American. NC is one of the original 13 colonies of the US. Seagrove is located near the geographical center of the state, roughly equidistant from the mountains and the sea, conveniently between Queen City Charlotte and the Raleigh Triangle. Webster defines craft as an occupation requiring skillful use of the hands, Seagrove potters certainly fit that bill. Webster also lists art as a synonym for craft. Art vs. craft is an age-old debate. A debate we'll leave for the art critics and scholars to continue. We call Seagrove pottery both. So we certainly fit the bill to continue to celebrate American Craft Week this year, October 1 through October 9. Seagrove has been celebrating American Craft Week since Sherry Masters, co-chair of the event approached SAPA (Seagrove Area Potters Association) Marketing Chair Jennie Lorette Keatts in 2010 about collaborating. Currently Sherry had this to say about the event, "In 2010 we were coming out of the '08 recession, and craft retailers, from small to large, were dealing with low budgets for advertising - and some were even shuttering their business. But then an idea started forming to plan a national week-long celebration, during which any artist, gallery, studio, craft organization, etc. could band together, have an event, and 'join the celebration'. From that beginning, and from Washington state to Florida, from California to Maine, small events to large through American Craft Week the nation came together to highlight the handmade. Since the beginning of American Craft Week, North Carolina was a leader with strong participation. Galleries and artists planned events from the coast to the mountains. The Seagrove community unified the east and the west in the center of the state with open studio events each year. We all know North Carolina has an amazing craft community and American Craft Week brought attention to much that we have to offer!" American Craft Week is a volunteer managed program of CRAFT (Craft Retailers and Artists for Tomorrow) a trade association dedicated to the growth and vitality of the craft industry. This from the 2017 Press release from American Craft Week: For the past month, craft lovers have been logging on to the American Craft Week website to choose their favorite place to enjoy a vibrant craft scene. With more than 17,000 votes tallied, the contest closed Sunday, April 16 at midnight. The top vote getter in the nationwide poll turned out to be Seagrove, N.C. The small town (population 228) is considered the "Handmade Pottery Capital of the United States." Seagrove garnered just over 33% of all the votes cast."Congratulations to Seagrove, said American Craft Week co-chair, Diane Sulg. "The potters there did a tremendous job publicizing the contest and urging folks to vote for them. Even more impressive, the town was not on the initial ballot, but after an early number of write-in votes, they were added to the ballot and their tally just kept growing."
In all, ten U.S. places were named as the Top Ten Towns for Craft Lovers. Here is the complete list of winners: 1. Seagrove, NC 2. Gatlinburg, TN 3. Berea, KY 4. Cumberland Valley, PA 5. Asheville, NC 6. Brattleboro, VT 7. Blue Ridge, GA 8. Bedford, VA 9. Door County, WI 10. Gloucester, MA "We congratulate all the winners and hope they use their designation to attract more visitors. Cultural tourism is on the rise across the country as people seek out interesting, creative destinations," said Sulg. While the American Craft Week organization has taken a break to re-evaluate and refresh, the Seagrove Area Potters Association has continued the tradition of celebrating the first two weekends in October as American Craft Week. Coming out of the pandemic of the past two years has been extremely challenging for small business craftspeople across the country and the Seagrove Community is no exception. Individual pottery shops depend on in-store purchases to remain in the black and while many have transitioned to on-line sales, others are not as well equipped to take on the technological and logistical challenges of that method. But the potters of Seagrove are an adaptable lot continuing to evolve yet maintain the unbroken tradition of pottery in the area. Honestly, Seagrove has been Celebrating American Craft long before that. Designated in 2005 as the "State Birthplace of North Carolina Traditional Pottery," Seagrove owes its deep ceramics roots, in part, to geology. There is no doubt that Native Americans were the first potters in the region followed by the Moravians. Those groups of potters worked almost exclusively with earthenware - a low fire temperature type of clay. In Randolph County, early stoneware (a more durable clay body, fired to a higher temperature than earthenware) was first mass produced by hand during the initial quarter of the 19th century and production expanded rapidly during the second quarter of the nineteenth century. Documentation is sparse but tax records show J.D. Craven trained Manly W. Owen, W. H. Hancock, William H. Chrisco, John Wesely Teague, Bryant Owens, William Henry Luck, and many neighboring men to turn. While these farmer potters were skilled in making functional items for sale and home, pure function did not necessitate the artfulness and pride they employed in the repetition of strong form and design,
familial traits of characteristic tapered handles and smooth spouts and decorative embellishments made with coggle wheels or incised designs brushed with costly cobalt. Potter's
marks (stamps) and signature further evidence the artistry of the time. In addition to being superb craftsmen, Seagrove potters exhibited strong marketing skills. Such talent is displayed in the straight sided whiskey jugs produced in the area, straight sided as opposed to a bulbous form, as a larger quantity of straight sided jugs could be packed in a wagon or later a train car for distribution. Such economies of scale are evidenced through much of Seagrove pottery history. Incidentally, the straight sided form is one of the most technically difficult to master as the eye perceives no room for error while viewing it. Such craft has never stopped in Seagrove.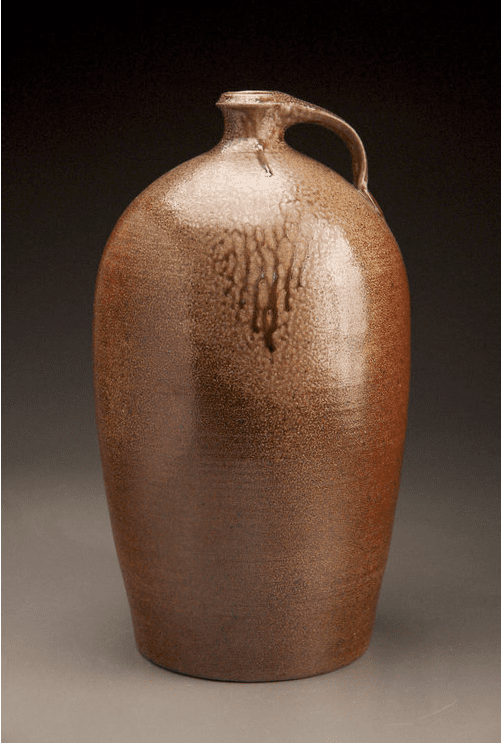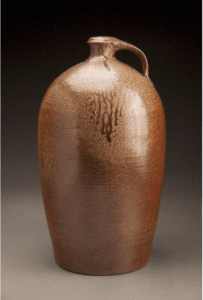 Chad Brown, 5th Generation Chrisco(e), Straight Sided Whiskey Jug, Wood Fired - Salt Glazed
It was the discovery of a Jugtown pie plate by Raleigh socialite Julianna Busbee that is credited with saving the Seagrove pottery community in the early 1900s when prohibition had wiped out the whiskey jug trade and cheaply manufactured goods were overtaking the functional pottery market. The Busbees moved into a log cabin and nurtured the old designs decorating their rustic home with the craft of the day. Mrs. Busbee owned and operated a tea room in Greenwich Village, NY and her husband Jaques shipped wares to be sold there and later to a store they opened on the Upper East Side. Along with pottery, they promoted and sold other American made craft - a tradition that Jugtown continues to this day. The Busbees are credited with reviving the industry with new ideas and technologies including Oriental forms and helped to perpetuate a sense of history and tradition with published articles. Dorothy and Walter Auman opened a pottery museum in the original Seagrove train depot in 1968 to help preserve and promote the strong regional identity of Seagrove Pottery. They worked tirelessly to spread the word of the craft, working with NC politician Skipper Bowles to develop and distribute the first pottery trail map of the area - a tradition that continues to this day. Dot and Walter befriended local talent with an interest in the craft and newcomers to the area alike with hopes to continue the tradition. Simultaneously, in 1968 Nancy Sweezy arrived at Jugtown to see it faltering. Ms. Sweezy was one of the co-founders of the not-for-profit organization Country Roads, Inc., dedicated to the research and marketing of folk crafts. Under her guidance, Country Roads purchased Jugtown and she revived the pottery operation, introducing new glazes to replace prohibited ones that had used lead and established a new apprentice program and marketing models. There are countless stories pertaining to the craft of Seagrove and we can't list them all here but we'll entice you with a few. The 14th shop opened in the '70s was Dover Pottery (closed in 2019) owned by Al McCanless and wife Milly and operated by their offspring. Al became one the premier crystalline artists in the community, later joined by Pam and Buster Kennedy of Uwharrie Crystalline, Frank Neef of Pottery by Frank and Bruce Gholson of Bulldog and others who dabble in the highly technical specialty glazing techniques, producing crystals each as unique as snowflakes. Al's son Eck worked at the family business for years before branching out on his own in 2011, and now specializes in a technique known as agateware, the intricate art of blending and carving different colored clays to produce highly individualized pieces.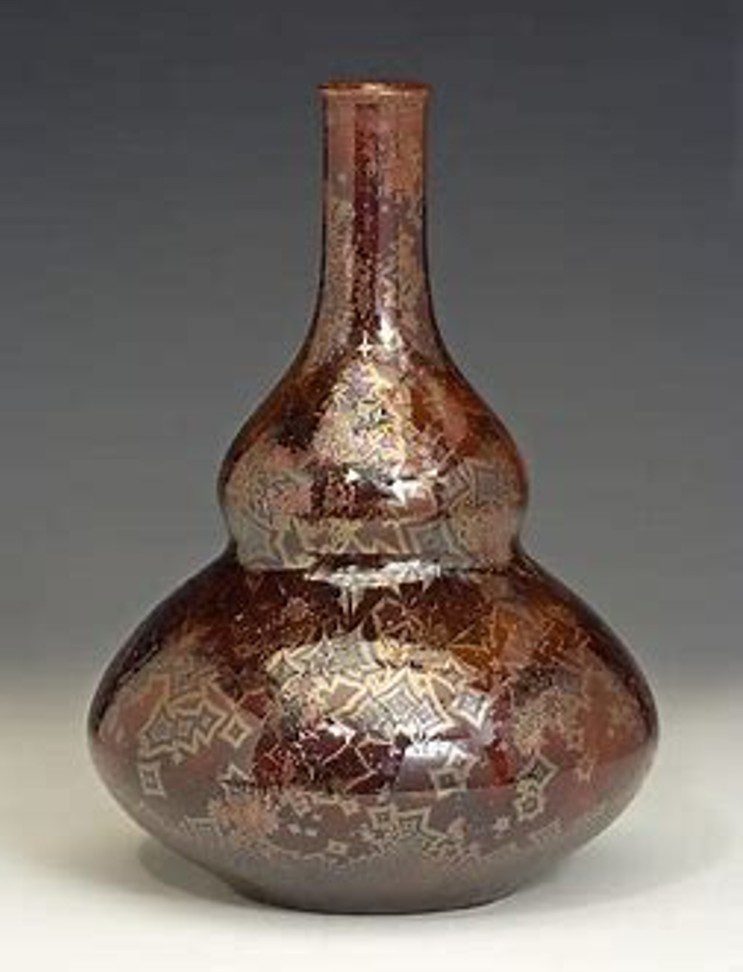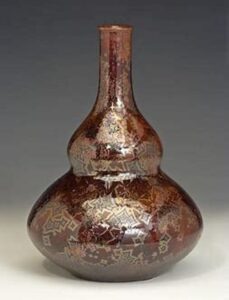 Bruce Gholson, Bulldog Pottery, Molybdenum Crystalline Gourd Vase
In addition to working with clay many Seagrove potters are also proficient musicians. Is music a craft or an art? Aforementioned Al McCanless "Fiddlin' Al" is well known in bluegrass circles as a fine fiddler playing in numerous bands including The New Deal String Band, Red Clay Ramblers, Bluegrass Experience and Outliers. Al's son Eck plays all kinds of stringed instruments but is best known for his singing, songwriting and guitar playing abilities in his current band the Radio. Other Seagrove potters are musicians as well, including superb banjo picker Matthew Nance of Windsong Pottery, who plays bluegrass across the state. Matthew is also a fine barber and operates a shop in addition to producing his excellent pottery forms. Is styling hair an art or craft... We think the craft of gardening can be an art and numerous Seagrove potters dabble in both. Janice and Bruce Latham of Lathams Pottery operate a blueberry farm in season and sell their pottery berry draining bowls in numerous glazes to hold them. Anne Partna of Blue Hen Pottery is a beekeeper in addition to making pottery and has begun to harvest organic honey from her bees to complement her often bee themed mugs, honey jars, teapots and jewelry.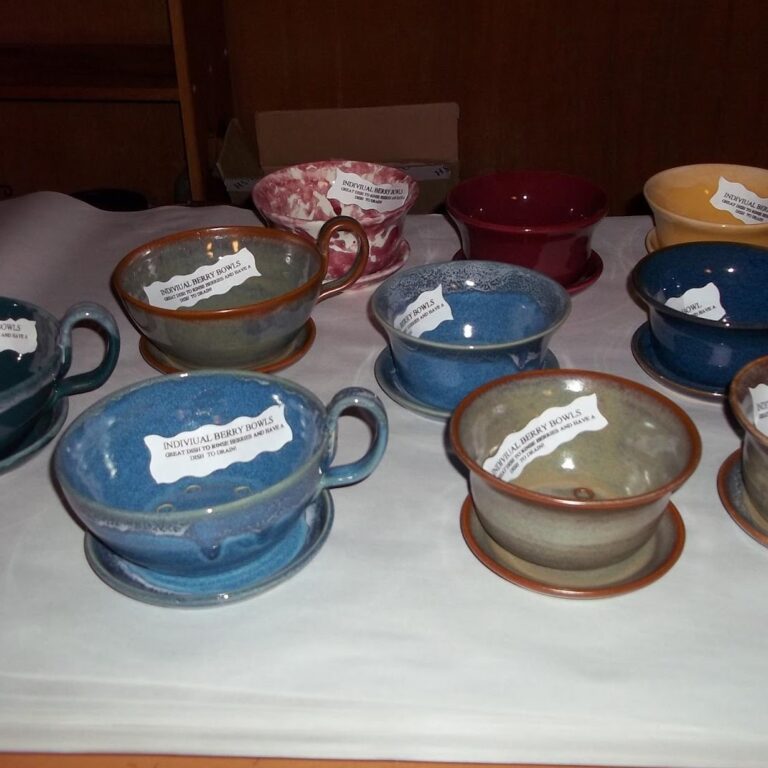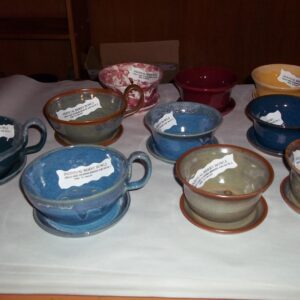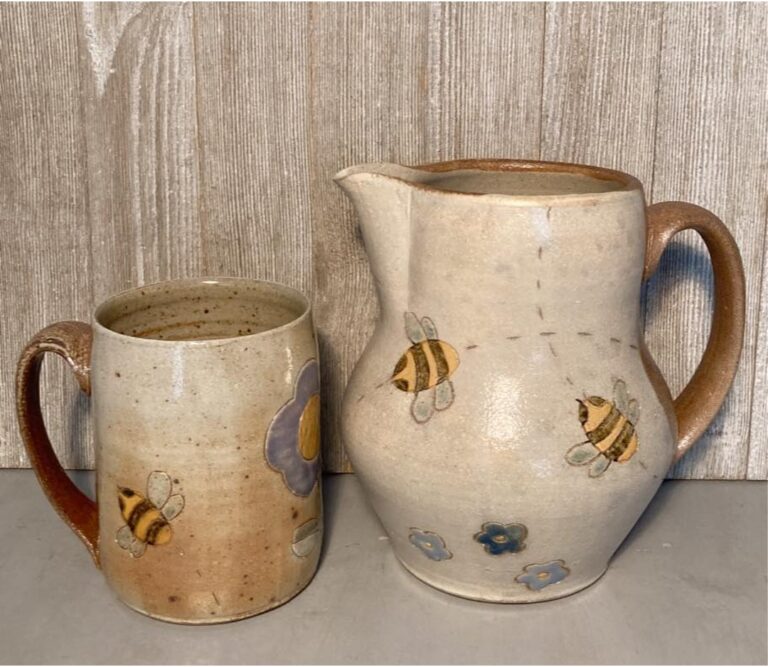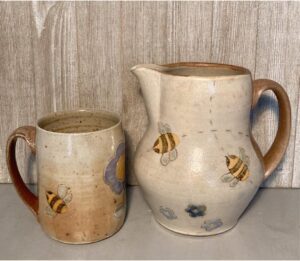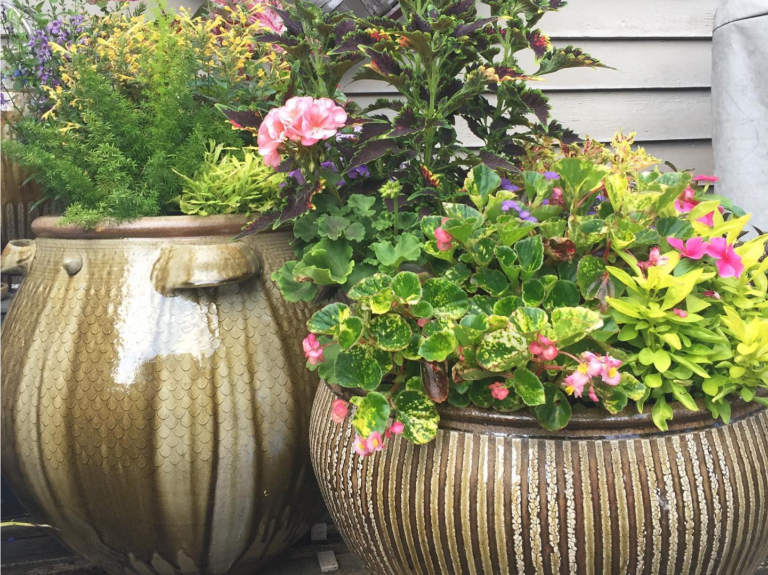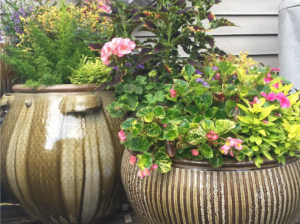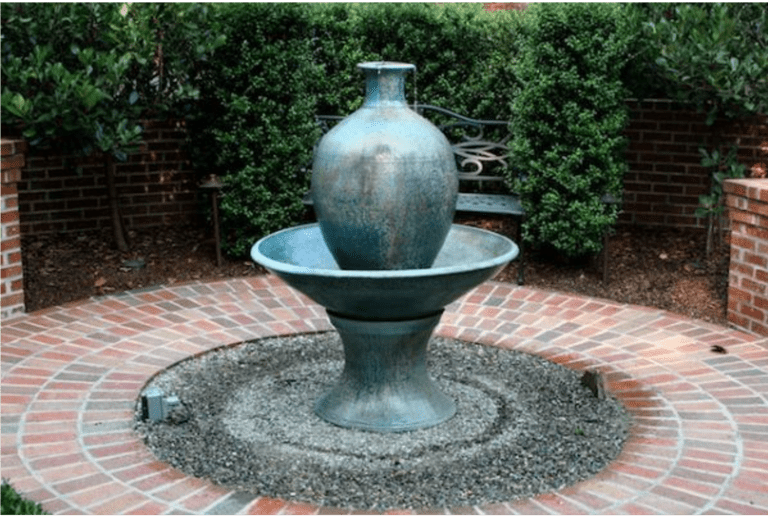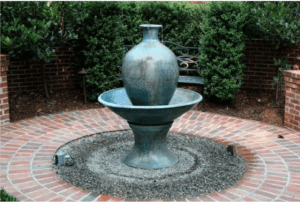 Latham's, Blue Hen, Donna Craven, Ben Owen
Is jewelry art or craft? Many Seagrove potters are making ceramic art to adorn folk's bodies, including Rhonda McCanless of McCanless Pottery, Breanna Cooper of Macon a Mess Pottery and Jennie Lorette Keatts of JLK Jewelry at Jugtown who combines precious metals and clay.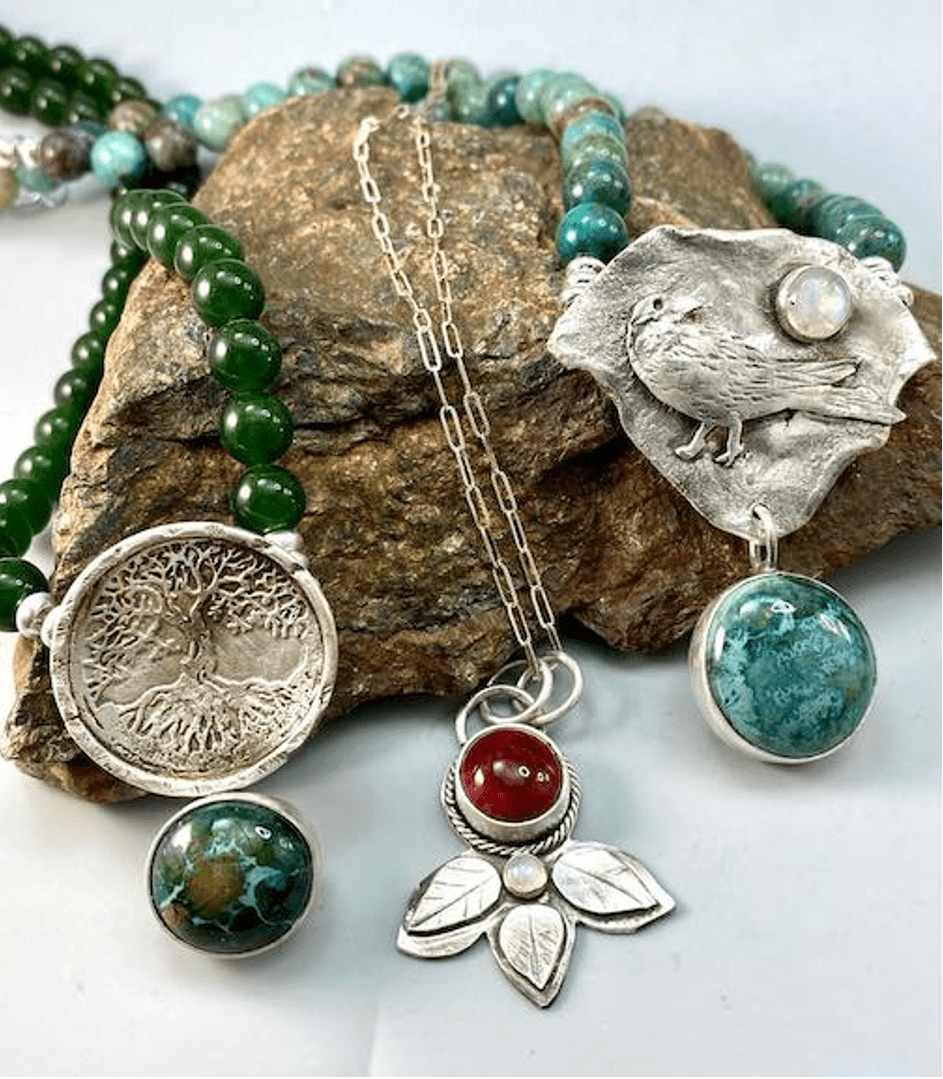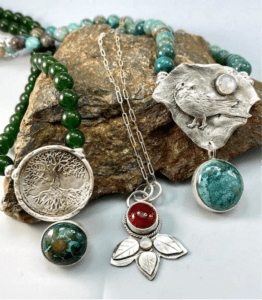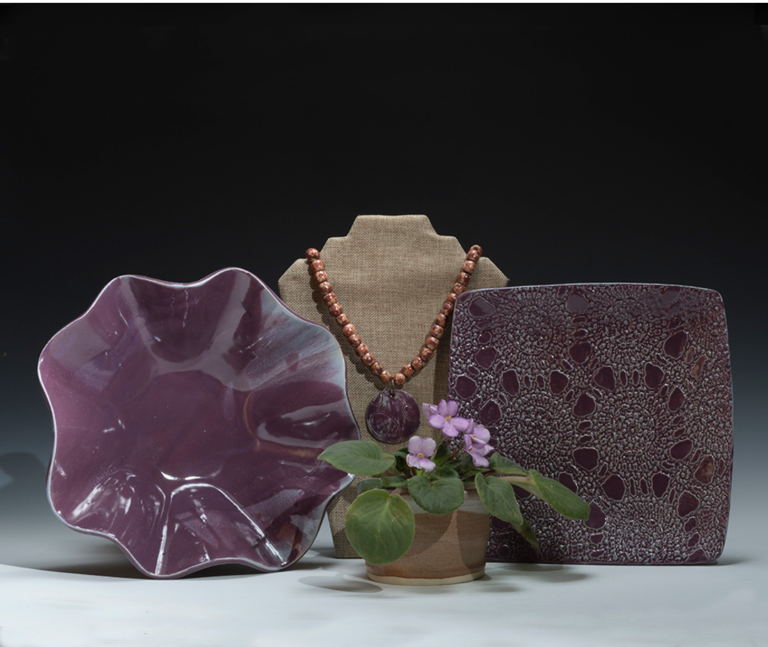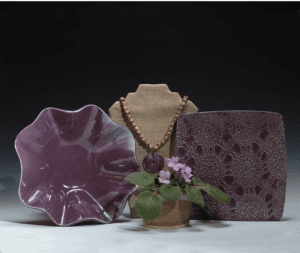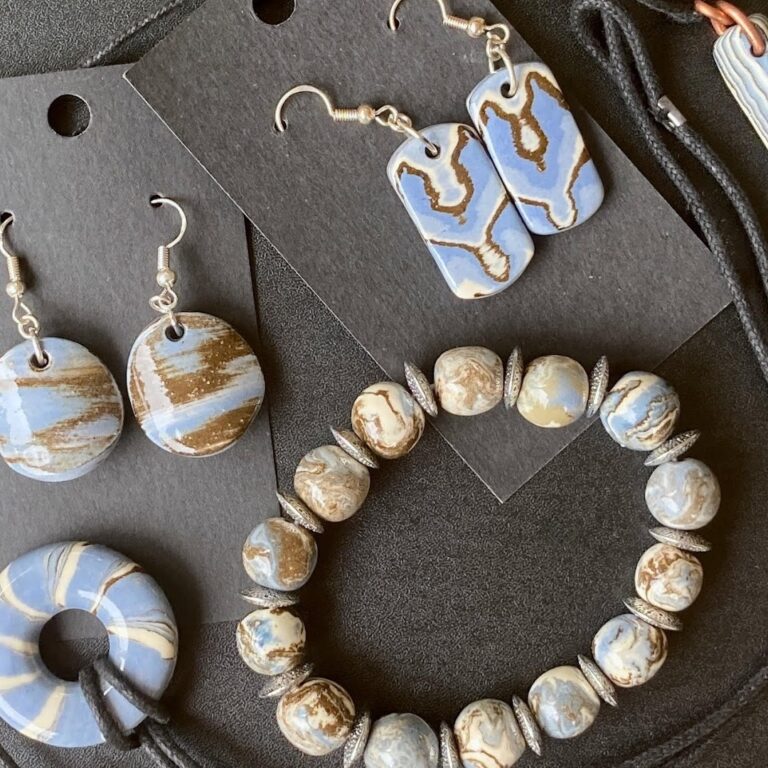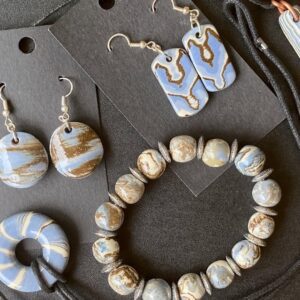 JLK Jewelry @Jugtown Breanna Cooper @ Macon A Mess Rhonda McCanless @ Eck McCanless
Some call cooking craft and some call it art, Seagrove potters call it all good when made in one of their handcrafted dishes whether it's a bundt pan from Hickory Hill Pottery, or a single cookie baker (with recipe included) from McNeill's Pottery. Numerous Seagrove potters bakeware and
recipes are featured in the cookbook, Kiln to Kitchen: Favorite Recipes from Beloved North Carolina Potters, by Jean Anderson, including Ben Owen's wild persimmon pudding. Recently, The Red Truck Bakery Farmhouse Bakery released their new cookbook featuring delicious treats served on Jugtown Pottery wares.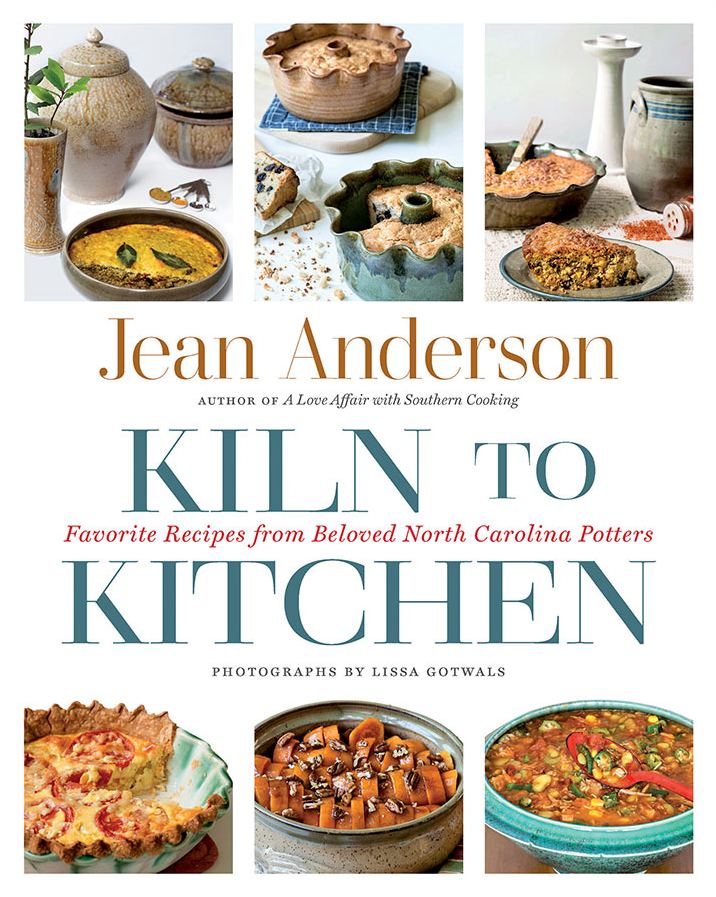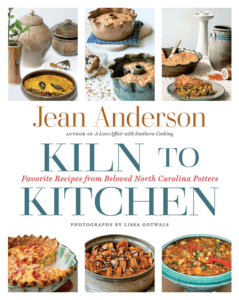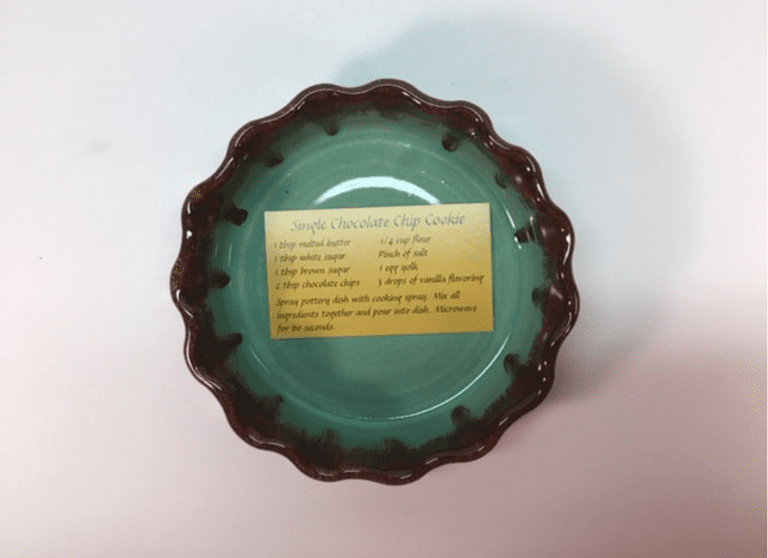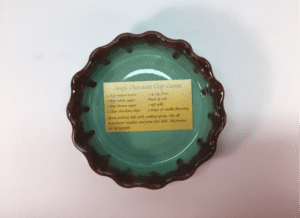 Today, there are numerous Seagrove Potters who have work in museum collections throughout NC, the United States and even other countries. And numerous potters have traveled throughout the United States and internationally to study and also to teach. The potters of Seagrove continue to grow and evolve, attracting potters who join the community from other places including Estonia (Blue Hen) , Korea (Seagrove Art Pottery) and Japan (Studio Touya). And while the traditional methods of learning pottery of apprenticeship, journeyman, production potter, familial connection and physical proximity continue to this day other potters arrive at Seagrove trained in well respected Colleges and Universities such as Montgomery Community College, East Carolina University, Alfred University and numerous residencies and workshops. Circling back to the question, art or craft? All we know is that there is plenty of pottery produced in Seagrove that just gives you all the feels, and that's enough for us. Regardless of whether you think pottery is art or craft, we invite you to come see us and decide for yourselves. The potters of Seagrove don't need a special week, special event or national recognition to invite you to a visit. To come and meet the artists and see where their work is made and experience the sense of place and the timeless quality. The genuine sense of the past that gives pride and purpose and guidance to the present. Special Events During American Craft Week
If you can't make a visit during October, SAVE THE DATE, for our biggest event of the year, the
15th Annual Celebration of Seagrove Potters, Indoor Show at the Historic Luck's Cannery in the
Thompson Arts and Event Hall, and Self-Guided Driving Studio Tour, November 19 & 20
Featuring exclusively Handmade Seagrove Pottery, - a new and exciting event and venue!